Which is better for the upcoming event? the indoor venue or a disco dome?
Whether you're hosting a birthday party, community party, or corporate event, choosing the perfect venue is important. But with so many options, it can take a lot of work to know the best choice for your particular event. This article will compare a disco dome to an indoor venue to help you decide which one is best. Keep reading to find out more!
Overview of a Disco Dome and Indoor Venue
For great value and an exciting twist on traditional bouncy castle hire, look no further than the Disco Dome! It offers the typical incredible bounce house experience but with a special party appearance. The interior is dark, with disco lights and a speaker creating an incredible, authentic disco atmosphere.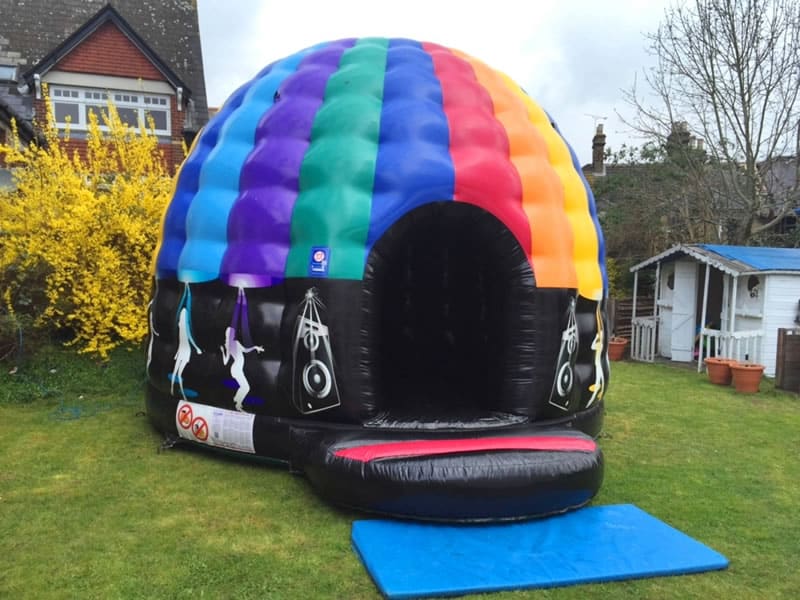 The cost of a new disco dome is £145 per day (with speakers and lighting) for children and adults (20'D x 16'W x 14'H).
But both indoor bouncy castles and the Disco Dome have a lot of wonderful benefits. With both choices, you get a terrific bounce house experience complete with lights, music, and tones of leaping!
The Disco Dome's Special Experience
Bouncy Castle Hire offers a unique party experience with its disco domes. These castles have built-in disco lights and speakers that create a fantastic disco atmosphere within the castle. All ages can enjoy the thrilling entertainment provided by our disco domes. The dome's inside is black, but disco lights and a speaker give the room a genuine disco vibe. So, the Disco Dome is your ideal answer if you're seeking a special and enjoyable way to entertain your visitors indoors.
Pros and Cons of Disco Domes
A disco bounce house jumping workout is crucial in alerting all the body's cells. This has a significant positive impact on a person's circulatory system as a whole. The movement of blood will affect all body parts.
Due to its modest size, you can put it in many homes, giving your visitors a fun and safe atmosphere. Regardless of the size of your site, they are more expensive than other bouncy castles but offer an experience.
Pros and Cons of Indoor Venues
The benefits of an indoor event may seem more obvious at first glance because indoor venues give you access to a secure, controlled setting.
Our interior space offers an unrivaled bounce house experience, with lights and music for a real disco vibe. Our indoor "house" bounce houses allow the party to be maintained and enjoyed without sacrificing safety from the elements.
A jumping castle has a few disadvantages. One significant problem is that buying a castle would cost much more than renting one, which is a considerable drawback. Another point is that an adult must be nearby when kids play in it.
Considerations of Comparison for Your Event
Disco Domes are the ideal party venue for kids' events! Your visitors won't soon forget their time in the Disco Dome because it has disco lights and an inside speaker that provides a real disco vibe. And neither will you! For smaller gatherings, "house" bouncy castles work best because they can fit anywhere and are portable, making them ideal for any future event.
Conclude:
In conclusion, there are several considerations when selecting the perfect location for your event. The greatest choice depends on your particular event and your goals. Before making a choice, consider each of the removed variables and compare them.
Call CB Bouncy Castles for a free quote and consultation on hiring a bouncy castle for your upcoming events or parties.